Ebmbook EPOS Features
Ebmbook PRO and Starter has different features.  PRO is the most recent version released on the 3rd of May 2021 with vast amount of features and more scalable compare to the older Starter EPOS.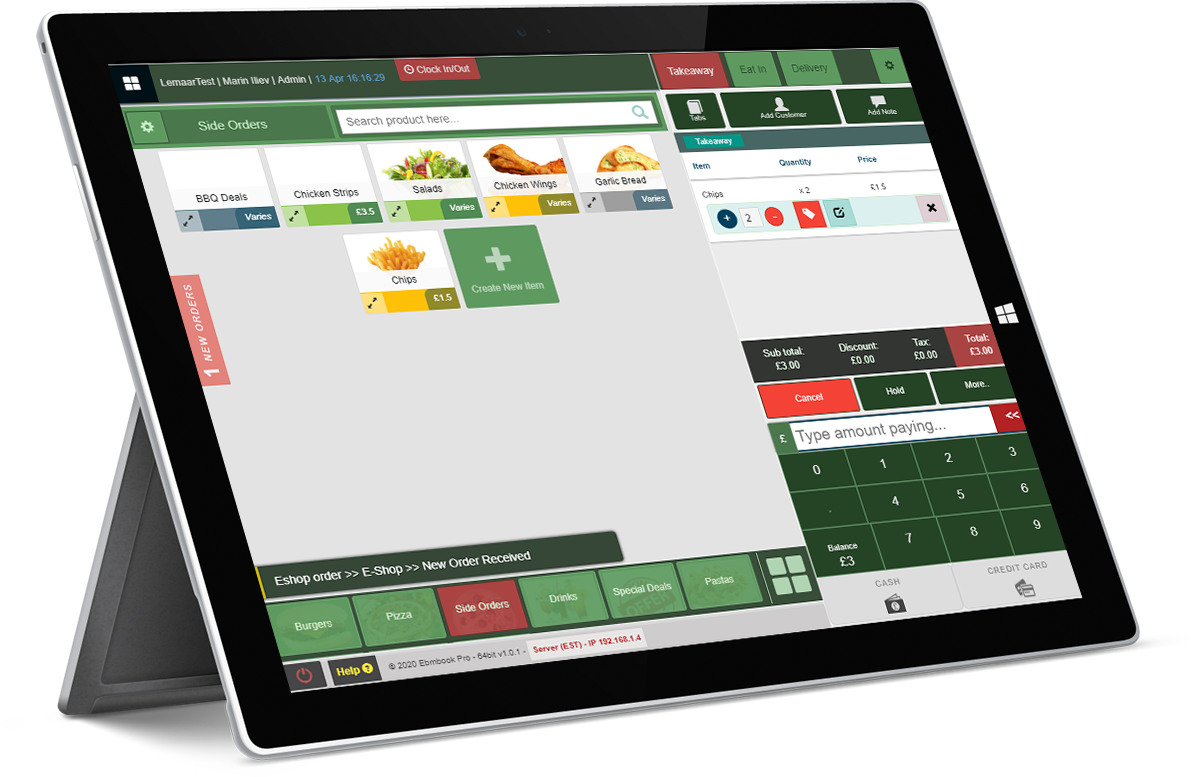 Note:
We will be keep updating this page in order to let you see the most recent feature releases! Also, details of each new version release can be accessed from
EPOS Version Updates
.
POS Works Offline
OFFLINE
The EPOS Starter is designed to work offline and you are in complete full control of your data, such as inventory products, orders, customers, employees, notes and much more.
PLATFORMS IT RUNS ONCurrently, the Ebmbook EPOS Starter works on Windows PC and tablets, and MAC operating systems.  The compatible software for your system should be downloaded from the Back Office.
DATA SYNCS BETWEEN THE APP AND THE BACK OFFICE
Any data you enter in the Back Office will only be downloaded with a fresh installation of the software.  The data will not be synced to already installed applications.  Any data entry, including modifications to data in the software, won't be saved to the Back Office.
IS INTERNET CONNECTION REQUIRED AT ALL
For the security of your company account, at least one time an Internet connection is required to validate your account details. This ensures your account is secured and you are using the up-to-date and genuine Ebmbook software.
Customer Management
CUSTOMER MANAGEMENTSave all your customers under a single platform.  Search for them easily based on anything such as telephone number, name and address, and find them with a single click.
CUSTOMER NOTES
Write notes and logs about a customer and let your employees see the recent notes from the EPOS dashboard or from the separate notes section.  Easily search for your EPOS notes and logs using a broad range of filters.
CUSTOMER ORDER HISTORY
Find out how many orders a customer placed from the customer section when an order is placed on the EPOS, and also select a customer for a new order.
CUSTOMER BONUS AND LOYALTY PROGRAM
Enable a loyalty program to your EPOS from the Settings menu.  Award custom bonus points through an 'earning strategy' option whenever customers buy certain products.
Inventory Management
PRODUCT CATEGORIESCreate categories and put your products under a certain category by assigning them to it from the main screen.
PRODUCT VARIATIONS
Create a product with various prices using any combination of variations: small, medium, large or any custom variant using the Product Management Window.
PRODUCT VARIABLE AND FIX PRICES
As well as variation pricing, you can also create a product with a fixed price or even a variable price. A price which users can input during an order from the Product Management Window.
COLOUR TAG PRODUCTS AND UPLOAD PICTURES
Give a colour code and upload a product picture from your machine.  The user can do this from the same Product Management Window.
ITEM DISCOUNT
Discount an item, either optionally by going to the discounts list during an order, or setting a fixed discount for everyone from the Product Management Window.
LOW STOCK ALERT
Set a low stock alert from the same Product Management Window. An alert will appear when a stocked item is running low.
SET PRODUCT CUSTOM TAX
Make an inventory product taxable or not taxable.  Set each product with the same or different tax amount from the Product Management Window.
PRODUCT CUSTOM FIELDS
Add custom fields to a product such as product specification, product height, weight, etc.  Add custom fields from the Product Management Window.
Payment Options
PAYMENT OPTIONS
On default, the cash payment option will be enabled. Other payment types accepted are cheques, credit/debit cards, bonus points, and bank transfers.
PAYMENT WITH CARD
Credit or debit card payment options are available & should be activated from the Setting payment section.  Other options include the ability to connect with a card machine or simply record orders as card payments.
PAY WITH BONUS POINTS
A customer can earn bonus points and use these points to purchase items with.  Provided they're enabled and the product is set for loyalty rewards.
SPLIT PAYMENTS
A customer can pay for an order with split payments. These payments can be made up of two or more splits.
PARTIAL PAYMENTS
A customer can also make full or part payments for an order.  An order will be marked partially paid and the next order can be prepared immediately.
ONLINE PAYMENT OPTIONS
A customer can pay online for an order.  This option will be available in upcoming releases.
Report & Dashboard
INVENTORY COUNT
From the dashboard, you can see the total count of your EPOS products, categories and attributes.
COUNT OF EVERYTHING
The EPOS system keeps a total count of everything from the top of the dashboard. This total includes customers, employees, orders, discounts, notes and more.
DAILY REPORTS
See your daily earning reports from the dashboard, including how many orders were placed.
CUSTOMER ORDER REPORTS
See daily, weekly, monthly or quarterly order reports.  These reports cover sold items, discounts, tax, etc.
MOST RECENT ACTIVITIES
See a list of the most recent registered customers, orders placed, and recent employee notes regarding customers, products or general notes.
Backup & Restore Your EPOS Data
Backup EPOS Data
The Ebmbook EPOS Software allows you to backup your full inventory of your data including all the pictures to any device of your choice as long as it's connected to your machine.
Restore EPOS Data
The Ebmbook EPOS software allows you to restore your data from USB, Memory Card or any external or internal folder back onto the Ebmbook EPOS Software.
Privacy & Security
BLOCK EMPLOYEE LOGIN
Block or unblock a particular employee from accessing the EPOS.  Go to the Employee Management section under the Settings menu and change the status.
CHANGE LOGIN PIN
Employee login PIN codes can be changed from the Employee Management section.  If changed, an employee won't be able to login with the old PIN anymore.
EMPLOYEE ACCESS LEVEL
Assign an employee to access only certain areas of the EPOS system such as, for example, taking orders only.  Go to the Employee Access Level under the Settings menu.
CUSTOM ROLES
Add company roles like Manager, Assistant Management, or any role.  Set roles under the Settings menu by granting access rights.
Full Color Customer Display Feature
CONNECT SECOND MONITOR
The Ebmbook EPOS will automatically detect your customer full color display. The POS will show special offers of your choice or even adverts on the customer display. It will also show an order summary of the existing customer.
CONFIGURE CUSTOMER DISPLAY
The customer display contents can be updated by you whenever required. It can be very easily done from the Settings section.
Hardware
RECOMMENDED HARDWARE
Under the Ebmbook.com website, we've displayed a list of the most recommended hardware machines and suppliers where you can order hardware or just use your existing devices.
BUY EPOS HARDWARE
You can buy the EPOS hardware like an all-in-one computer, barcode scanner, receipt printer and cash register from us directly or at your own risk from any supplier of your own choice.
EPOS HARDWARE SUPPORT
We provide hardware support only to those devices purchased from us.  We might also be able to give you the details of our local technician.
SETUP EPOS PRINTER
First, install the printer on your machine and then enable the printer from Settings menu.  You can set up a list of printers from which you can select the printer you need.
AUTO DETECT PRINTER
Ebmbook can auto detect printers from the Settings menu.
SETUP BARCODE READER
Note: At the moment, the current version of the Ebmbook EPOS Starter accepts only Laser Barcode Readers.
SETUP CASH DRAWER
It's simple, just connect the EPOS Printer to the application & then connect the cash drawer with the EPOS printer.  When printing a receipt the cash drawer will automatically open.
Our Support
24/7 EMAIL SUPPORT
We provide 24/7 email support to all our registered and subscribed customers.  Depending on the priority, we do our best to come back to you with the relevant help.
TELEPHONE SUPPORT
We provide telephone support to all our subscribed customers.  Depending on the status of your account we will be there to help you.
SETUP AND LAUNCH SUPPORT
When launching your EPOS software with us, our friendly team will assist you either over the phone or a representative will visit your workplace. This also depends on your location.
Customisable Receipts
Main Receipt
The EPOS lets you print main receipt with your own custom contents on it such as order details including customer note, customer details your company details etc. You can remove or add other options if needed.
Secondary Receipt
You have an option to create optional secondary receipt with completely customized contents. Depends on the nature of your business, some companies might require a smaller note with only order basic details such as Kitchen note or order details only.