POS for Jewelry Stores
A secure jewelry and watch stores need a secure Point of Sale software to manage their business activities. The Ebmbook EPOS Software is a perfect point of sale system for jewelry stores. You can never go wrong with the Ebmbook jewelry store POS system. It keeps the high-quality pictures of your jewelry items and their prices for your employees as well as the consumers…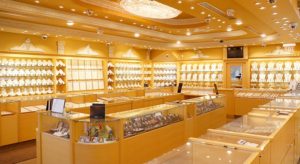 Why Choose Ebmbook POS for Jewelry Stores?
Grow your jewelry business with the Ebmbook POS Software.  The Ebmbook POS for jewelry has has all the features required by your business.  It's a user-friendly and easy to use POS system has a unique design for jewelry stores.  The POS can be further configured to your business needs.
We can also configure the POS for your Jewelry online shop to sync your jewelry items with your online website. For syncing your jewelry store items like "Anklet, Barrette, Belt buckle, Belly chain" and many more items with your online store then please let us know so the Ebmbook team can discuss this with you in more details.
On this POS, you can simply see a report of all the orders, jewelry items, your customers, earning report and many more analytics to benefit your jewelry store.
As we said befor, the Ebmbook POS will put you in full control of your data unlike others who will have full access to your data, the Ebmbook POS will let you work offline unless you like to link the POS with your online store.  With this POS system you can export your reports and then delete the full history of your orders whenever you prefer.  So, why you wait.  The Ebmbook POS is a perfect tool for your jewelry business.
Download the Jewelry POS Software onto your computer. Everyone loves Ebmbook Jewelry POS, you will 100% love it too.
Create Free Trial POS Account
No payment details required.

POS Hardware Choices for Jewelry Stores
With the Ebmbook Point of Sale software, you have a choice of installing the software either on your own laptop, pc or windows tablet or otherwise, we can supply you with the relevant hardware for your jewelry business.
If you need a POS System for any business sector then please feel free to get in touch with us. We can tailor the Ebmbook EPOS exactly to your business needs.