About Ebmbook PRO Order Progress Management
An order taken through the POS terminal or came through online sources such as ESHOP or partners – they all have almost same process.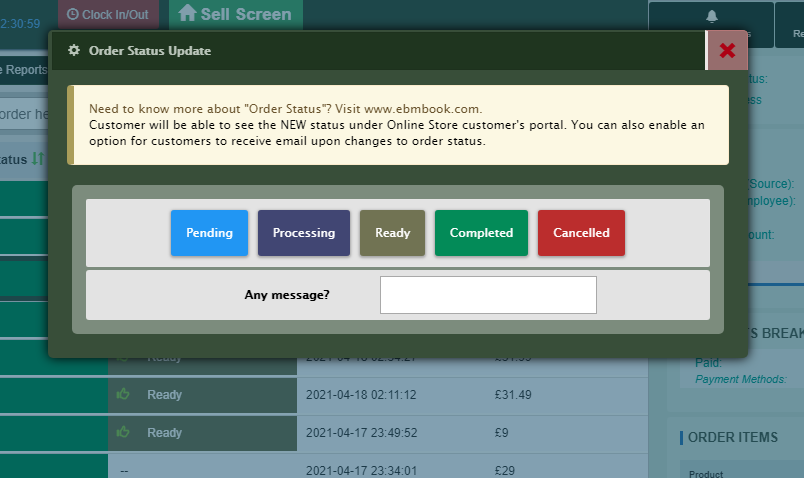 Pending: Awaiting to be approved – it might be fake online order therefor it has to be approved by the EST user
Approved: The order has been confirmed and it's a live order
Processing: Order is under preparation right now and will be ready soon
Ready: This order has been prepared and is ready now
Completed: Order paid, collected or finalized successfully
Cancelled: This order has been cancelled
How it works?
Orders from everywhere eventually will arrive into EST
ECT orders come to EST as soon the connection between the two enabled
ESHOP orders will synced to EST as soon the connection enabled and orders haven't synced previously
Orders from other sources such as JustEat, UberEats, Deliveroo and other partners will arrive into EST – to know more you need to be a subscribed Ebmbook PRO member.
Orders from partners can also arrive into EST through other source – to know more you need to be a subscribed Ebmbook PRO member.
All orders arrived from partners will be automatically accepted and will have pending status
All orders arrived from ESHOP will have pending status
The status of any order on EST can be changed to any preparation status
A status of order progress can also be changed from the Kitchen System, this is only limited to few statuses. See Kitchen Orders Management for details.