Connect Self Service KIOSK with Ebmbook PRO

In version 1.0.5, an instant alert added when a new order received from KIOSK and Table service app. The order will be sent instantly to the kitchen display system too.  The kitchen staff can straightaway receive the order and start the preparation of the food without any further delay.
In PRO version "1.0.4" new features and further improvements patched.  The further modifications include KIOSK API integration "ComputerPlus.UK Kiosk API" and more improvements.
An external KIOSK application can be used by your customers to send orders to your Ebmbook PRO software with few clicks.
We had integrated the EPOS Kiosk software into Ebmbook PRO and this can be easily connected with your Ebmbook PRO server terminal.
How it works?
Download and install the KIOSK app in your Tablet/Mobile or Kiosk station  – Kiosk Download instructions
Open the KIOSK app and scan the Ebmbook PRO QR Code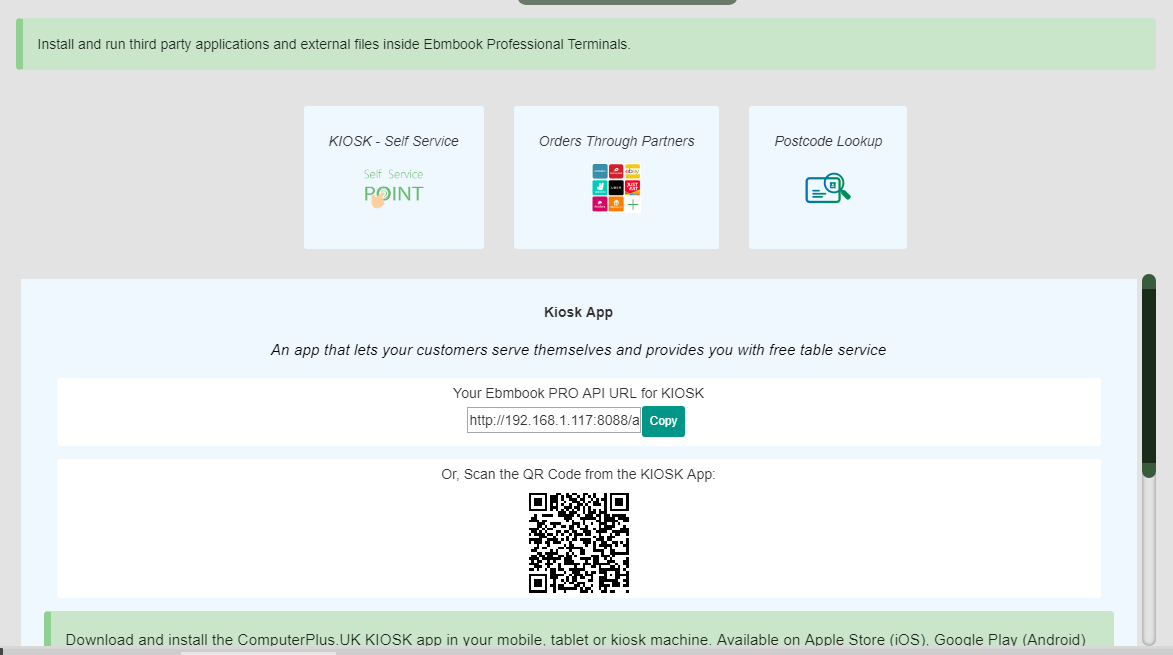 In Ebmbook PRO go to Settings >> Install Apps >> Kiosk – Self Service
Either copy the URL and use it in KIOSK app or  SCAN the QR Code from the KIOSK app
And, that's it.
The KIOSK will pull all the products, categories and basic information related to your account such as your company name to show to customers.